The snow fell throughout the day and veiled the grey day and night with pristine light and hushed the hurried world around us. And all of the kiddos, and mom thrown in to boot, have a cold and some sort of intestinal bug going through the house. Fevered brows, heaving buckets, and cool drinks of water replaced any snow boots or snowball making. The children are excitedly tracking (using the weather links from my previous post) storm after storm setting itself up to hit the east coast with bigger storms. Their biggest discomfort question is how can a child who is only yeah big (insert height of typical three year old) produce so much nose goo? Where does all that 'stuff' come from, Mom? I'll spare you the graphic pictures of delightful three year old, or the answers I gave while my pulling my copy of 'Blood and Guts' and 'What Makes You Get Boogers and Fart' type books from the shelf. The things a homeschool mom can take and turn into a teachable moment...



I'll instead leave you with a nice image. It's one of my goals this year. When things get hard... grey... to surround myself with beauty....

Isn't that just a beautiful image? I love the 'old English' look ... long and flowing gowns and hair. And flowers. Lots of flowers... and it talks about fearing not... I put that image in my computer for a screen saver.

And this one is in there now too: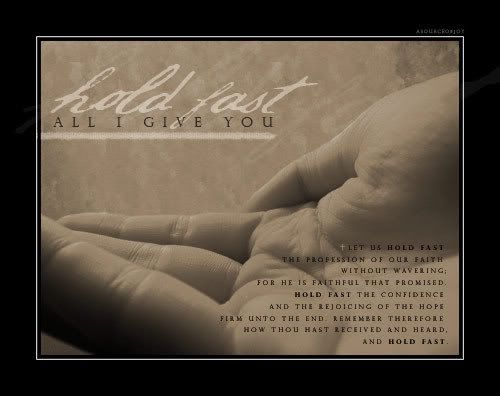 It's probably hard to see the words... but it is talking about holding fast....

Sometimes that is tough to do... really tough.

Sometimes you feel like you are the only one. And standing up for what you believe... truth...is hard.

That's why I like to set myself reminders... pictures, bookmarks... book covers, screensavers..... of Him...

To remind me... a perpetual mezuzah all around me...to keep the words inscribed on my doorposts of my soul...

Trailmarkers along the way. Keep going. Stay the course... you are on the right road.


People who say such things show that they are looking for a country of their own. If they had been thinking of the country they had left, they would have had opportunity to return. Instead, they were longing for a better country—a heavenly one. Therefore God is not ashamed to be called their God, for he has prepared a city for them. Hebrews 11:14-16


Want some gorgeous free desktop and graphics like the ones featured here? Check out Source of Joy's website for more inspiration and magnificently designed works of art.